The White Room
21.03.2015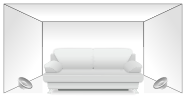 Die Sendung "The White Room" läuft auf dem Berliner Radiosender Jazzradio 106,9 immer am Donnerstag, Freitag und Samstag von 18 Uhr bis 3 Uhr nachts. In den Anfangsjahren des "White Room", als Jazzradio noch auf der Frequenz 101,9 MHz sendete, lief die Sendung immer freitags von 19 Uhr bis 0 Uhr. Mittlerweile sendet Jazzradio sein Programm auch außerhalb von Berlin als Webradio übers Internet. Die Sendung "The White Room" existiert jetzt seit mehr als 10 Jahren. Leider sind viele Lieder, die im "White Room" gespielt werden, genauso alt. Die meisten Lieder finde ich nach 10 Jahren trotzdem noch gut. Im Durchschnitt wird einmal pro Woche ein neues Lied im "White Room" gespielt und oft auch in die Rotation übernommen. Auf dieser Seite stelle ich einige der neuen Lieder von 2013 bis 2015 vor, die mir gefallen. Zunächst eine Liste mit meinen Lieblingsliedern des "White Room" und weiter unten einige kleine Korrekturen zur Playlist des "White Room".
Meine Lieblingslieder des White Room
Für alle, die ebenfalls elektronische Musik mit Richtung Jazz, Downtempo oder House mögen, habe ich als Anregung und Musikfilter eine Liste meiner Lieblingslieder zusammengestellt. Bei den üblichen Verdächtigen z.B. Youtube, Deezer, Beatport, Soundcloud usw. kannst du in die Lieder reinhören. Viel Spaß.
A:XUS - When I Fall In Love
Afro Elements - It Remains To Be Seen
Agnès Presents Cavalier - Kabardin
Andrew J. & Kaltenecker - Melodies
Armand Van Helden And A-Trak Present Duck Sauce - Anyway
Aya - Sean (Eric's 2WFU Dub)
Amalgamation Of Soundz - Salsin
Audio Montage - Come With Me
Baby Mammoth - Spike's Lament
Bah Samba - Reach Inside
Bah Samba - So Tired Of Waiting
Barato - Broken Bossa
Barrio Jazz Gang - Footsteps In The Green
Barrio Jazz Gang - Waves In The Sun
Blaze - Breathe
Carmen Mcrae - How Long Has This Been Going On (Mj Cole Remix)
Christian Prommer's Drumlesson - Elle
Christian Zimmermann - Diary Of A Lost Girl
Dr Strafe - Coin-Op
David Benoit - Coming Up For Air
Dennis Ferrer - Son Of Raw
Dirt Diggers feat. Robert Owens - Back When (Sp Classic Remix)
Don Carlos - Sueno De Bahia
Don Carlos Unlimited - Love & Devotion (Main Mix)
Donald Byrd - Lansanna's Priestess
Down To The Bone - Brooklyn Heights
Dzihan & Kamien - Deep Kitsch
Elements Of Soul feat. Mia Taylor - Head Above Water (Axwell's Star Beach Mix)
Freestyle Man - Que Domingo (Nuspirit Helsinki Montana Roha Jazzmix)
Fudge Fingas - What Do You Do
Fusion Groove Orchestra - If Only I Could (Bloated Dub)
George Duke - Chillin'
Groove Junkies Pres. Solomon Henderson - Inside My Soul (Classic Vox Mix)
Guardner - Retro/Future
Hakan Lidbo - Marmalade Skies
Hanna - Contemplating Jazz 2
Hanna - My Own
Henri Salvador - Jazz Mediterranee (Koop Remix)
Herb LF - Sunliner (1.0 Edit)
Hird feat. Yukimi Nagano - Keep You Kimi
Ian Pooley - Sundowner
Jaffa - Elevator (Fred Everything's Afro Loft 2000 Mix)
Jazzanova - Fedimes Flight (Kyoto Jazz Massive Remix)
Jazzanova - Mwela, Mwela (Here I Am) (King Britt Remix)
Jody Watley - Saturday Night Experience (Shelter Dub)
Jon Cutler feat. Kemdi - You Groove Me
Jon Cutler Presents Sarah Anne Webb - Dawn (Afronaught Reconstruction)
Kaskade feat. Melissa - What You Are To Me
Larry Heard - Missing You (Jazz Cafe Mix)
Lava - 706 Field
Leggo Beast - Elephant Legs
Les Gammas - Outra Vida (Eddy & Dus Remix)
Llorca With Lady Bird - My Precious Thing
Louie Vega - Mozalounge
Louie Vega feat. Blaze - Elements Of Life
Mad Zoo Presents Technozoide - Esfera
Marcel - Menthol Lights
Minus 8 - White
MJ Cole - Strung Out
Modaji - Starburst Over Orion
Mondo Grosso feat. Paula Lima - Life
Moodorama - My Favourite Place
Moss - Wintergreen
Mr Hermano - Como Um Sol (Brazilian Beat Mix)
Mr Scruff - So Long
Nick Holder - Space Traveller
Nick Holder - Summer Daze
Nigel Hayes - In The Park
Nostalgia 77 - Quiet Dawn (Bonobo Remix)
Nova Fronteira - Calma
Panama Reed - Gold Medal Kid
Plej - Safe Place
Povo - Uam Uam
Quasimode - Last Nine Days (Slope feat. Colin Corvez Remix)
Rasmus Faber feat. Emily Mcewan - Ever After (Samba Reprise)
Rivera Rotation - Weledi
Rodrigo Sanchez - La Sonrisa Del Alma
Roy Hargrove feat. Shelby Johnson - How I Know
Seek - Ever After
Sepia - Last Tango In Paris
Shahrokh Sound Of K. - Roya
Shahrokh Sound Of K. feat. Toyin Taylor - Love Happens (Album Version)
Shirley Eubanks Ensemble - The Blessing Song
Simone Serritella - Sambalanco
Slope - Gemini
Slope feat. Clara Hill - Suddenly (A Coffee Break)
Slope feat. Jane Hamilton - Find Our Love
Sonoluce - Easybe
Sotu The Traveller feat. Maya Azucena - Flow
Soundspecies - Journeyman
St Germain - Sure Thing
Studnitzky Trio - Hauke
Submerse - Cluster
Swag - 2+2=5
Tetris - Morning Glory
Tetris - Two Hours
The Detroit Experiment - Think Twice
The Past Present Organisation - Beautyfull (a.k.a Beautiful, umbrellas in the rain)
The Strike Boys - Go Back Home
The Underwolves - Bird Song (Original)
The Youngsters - Cafe De La Poste
Thievery Corporation - Le Monde
Thomas Siffling & The Public Sound Office - Jazzy (Jacek Sinalco Rework)
Thomas Siffling Trio - Cruisen (Jelly Jam Highsteppin Remix)
Till Brönner - Track One
Tm Juke - Life, Rain, Fall
Vincenzo & Rivera Rotation - Night Cruisin'
Ausgewählte neue Lieder von 2013 bis 2015
Aufgrund der Wiederholungen im "White Room" interessiere ich mich nur noch für die neuen Lieder. Im Durchschnitt läuft einmal pro Woche ein neues Lied im "White Room". In den letzten Jahren wurden die neuen Lieder verstärkt aus dem Bereich "Deep House" ausgewählt. Das bedeutet: tiefe Basslinien und Beats, der Aufbau der Lieder ist eher minimalistisch - es ändern sich nur wenige Stellen im Verlauf des Songs. In der nachfolgenden Tabelle stelle ich die neuen Lieder seit 2013 vor, die mir gefallen haben. Die Smooth-Jazz-Lieder, die sich in den "White Room" verirrt haben, und einige zu experimentelle Lieder habe ich aussortiert. Zunächst die besseren Songs:
Lied
Mickey - You Know The Beat
Ivaylo & Slammer feat. Renate - Guide Line (Demarkus Lewis Rockit Lab Remix)
Max Cooper - Supine (Rodriguez Jr Remix)
Max Graef & Muff Deep - Am Fenster
Ivaylo - Cantorini
Julius Papp & Lisa Shaw - Miracle (Sunrise Vocal Album Edit)
Und hier die Lieder, die für mich zwar nicht herausragen, aber dennoch zum gelegentlichen Anhören taugen:
Lied
Metronomy - I'm Aquarius
Ganga - Oceans Alive
Mashti & Jean Van Baden - Mumbai Madness (DJ Jondal Mix)
Minus 8 - Kryptonite (Vocal Radio Mix)
Club Des Belugas - Welcome To Brazil
Nicola Conte feat. Rosalia De Souza - Fica Mal Com Deus
Baumgartner & Kraus - For Criminal Use Only
Gregory Porter - She Danced Across The Floor (Automart Remix)
Bryan Ford - Shoe Tree
Hansmann & Klausing - Who Are You
Borai - Moonlight On The Malago
Atjazz feat. Amalia - One
Astrud Gilberto & Walter Wanderley Trio - So Nice (Summer Samba) (Azari & III Remix)
Archie Pelago - D's Diamonds
Flashbaxx - Gold
Flashbaxx - Movin' On
Flashbaxx - We Just Listen To It
Different Marks feat. Glimpse - To Be Without Me
Lo Creed - Remind
Ella Fitzgerald - Blues Skies (Maya Jane Coles Remix)
Lewis Boardman - Yeah
Anton Zap - Captain Storm
Klartraum - Sweetness
Radio Diffusion - Elevator
Hubie Davison - I Won't Be There
Grunbox - Pura Vida
Titeknots - Hummingbirds
Synkro - Acceptance
Hreno - Completely New
Julius Papp - Boogie Buffet (Deep Dub Mix)
Korrekturen in der Playlist
Die Playlist von Jazzradio enthält einige kleine Ungenauigkeiten. Vor allem die Songs des Albums "Coffee Shop - The Chillin Sessions 1" sind in der Playlist durcheinandergeraten.
| Titel in der Playlist | Eigentliches Lied |
| --- | --- |
| Coffee - Numb | Beanfield - Abstractions |
| Coffee - Fresh | Quarter - S. Toned |
| Coffee - Find A Way | King Kooba - California Suite |
| Coffee - Do You Believe/Garden Of Eden | Forces Of Nature - Open Space |
| Coffee - Telstar | Hazed Project - Flipmode Flute |
| Ame - Safari | Ame - Sarari |
| Flori - Su-Z25 | Flori - Lucy |
| Flori - Lucy | Flori - Su-Z25 |
| Quasimode - The Land Of Freedom (Slope Remix) | Quasimode - Last Nine Days (Slope feat. Colin Corvez Remix) |
| Lars Bartkuhn - Goodbye Dancing, Hello God (Arto Mwambe Remix) | Roland Appel - Secrets (Arto Mwambe Remix) |
| Roland Appel - Secrets (Arto Mwambe Remix) | Lars Bartkuhn - Goodbye Dancing, Hello God (Arto Mwambe Remix) |
| Leggo Beast - Elephant Eggs | Leggo Beast - Elephant Legs |
| The Stance Brothers - Cool Hand / Turmoil | The Stance Brothers - Steve McQueen |
| Soul Surfer - Apsaras | Waldeck - Demasked |
| Marcel - Menthol Nights | Marcel - Menthol Lights |